Gemeinschaftsausstellung Kreis Ostholstein Kreisverwaltung Lübecker Straße 41 23701 Eutin. Thema " Bewegung"  Vom 05. Mai 2019 bis zum 02 Juni 2019 Öffnungszeiten : Mo-Do  8-12  und 13:30-15:30  Fr 8-12
Vernissage 05. Mai 2019 11:30
Ostholsteiner Anzeiger vom 4-5. Mai 2019
Joint exhibition district Ostholstein  Lübecker Straße 41 23701 Eutin. Theme "Movement" From 05 May 2019 to 02 June 2019 Opening hours : Mon-Thu 8-12 and 13:30-15:30 Fr 8-12
Vernissage 05. May 2019 11:30
Ostholsteiner Anzeiger from 4-5 May 2019
MENSCHENRECHTE. MEINE RECHTE. DEINE RECHTE 
April -Dezember 2018
17. April 2018 Ausstellung "Menschenrechte. Meine Rechte. Deine Rechte." Auswärtiges Amt in Berlin vom 17.04 bis zum 28.05. 14 Stelen mit ca 30 Fotos. Ich bin dabei mit Artikel 22 "Recht auf soziale Sicherheit"
17 April 2018 Exhibition "Human Rights. My rights. Your Rights." Federal Foreign Office in Berlin from 17.04 to 28.05. 14 steles with approx. 30 photos. I am present with article 22 "Right to social security".
SPASME TEMPOREL Dezember 2018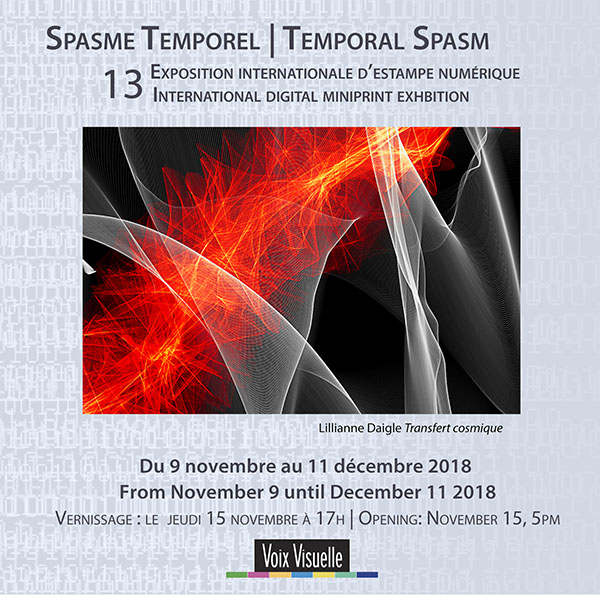 Nominierung und Teilnahme an der Gemeinschaftsausstellung " Temporal Spasm"  in Galerie  "Le Centre d'artistes Voix Visuelle"  67 Beechwood Avenue Ottawa, Ontario K1M 1L8  Canada
Nomination and participation in the group exhibition "Temporal Spasm" in the gallery "Le Centre d'artistes Voix Visuelle" 67 Beechwood Avenue Ottawa, Ontario K1M 1L8 Canada
24. april 2018 Vernissage "Artspring 2018 " Gemeinschaftsausstellung Museum Pankow / Berlin vom 24.04 bis zum 27.05. Mein Drachen FÁFNIR bewacht den Goldschatz
24. april 2018 Vernissage "Artspring 2018 " Joint exhibition Museum Pankow / Berlin from 24.04 to 27.05. My dragon FÁFNIR guards the gold treasure
DAS VERLORENE PARADIES
April 2017
Gemeinschaftsausstellung Kreis Ostholstein Kreisverwaltung Lübecker Straße 41 23701 Eutin. Thema " Das verlorene Paradies"  Vom 02. April 2017 bis zum 27. April 2017 Öffnungszeiten : Mo-Do  8-12  und 13:30-15:30  Fr 8-12
Vernissage 02. April 2017 11:30
Joint exhibition district Ostholstein district administration Lübecker Straße 41 23701 Eutin. Theme " The Lost Paradise" From 02 April 2017 to 27 April 2017 Opening hours : Mon-Thu 8-12 and 13:30-15:30 Fr 8-12
Vernissage 02. April 2017 11:30
DRECKIGES GOLD Dezember 2016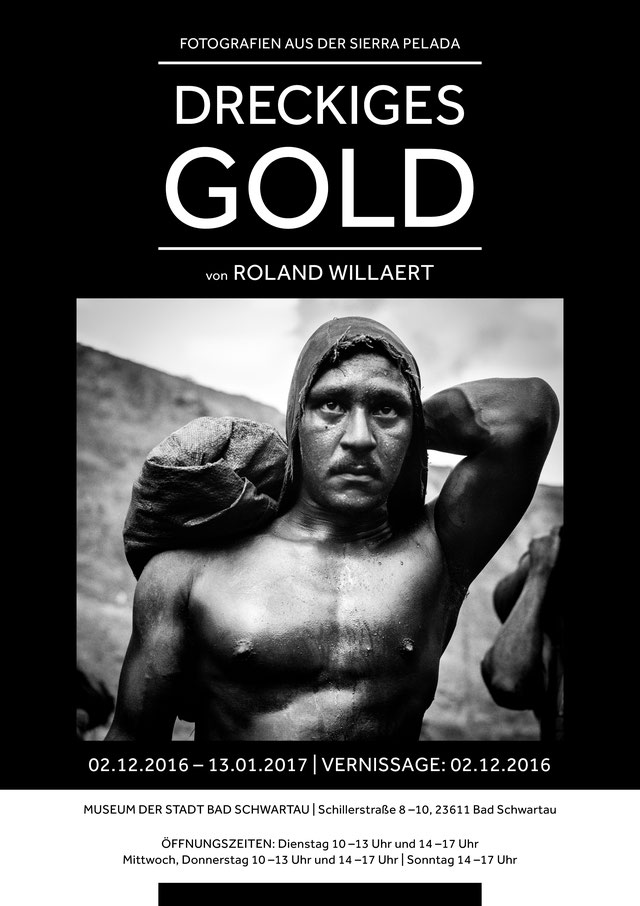 "Dreckiges Gold"
Fotografien von Roland Willaert aus der Serra Pelada / Brasilien
Museum der Stadt Bad Schwartau
Schillerstraße 8-10
23611 Bad Schwartau
Vernissage : 02.12.2016
Einführung von Jens-Peter Mardersteig
Ausstellung vom 02.12.2016 bis 13.01.2017
Öffnungszeiten Di-Do 10-13 Uhr und 14-17 Uhr Sonntag 14-17 Uhr
Mit einer Rolleiflex und 10 Rollen Film war ich in 1986 in einer illegalen Goldmine. Landlose Bauern, Abenteuerer und Kriminelle gruben ein riesige Loch um Gold zu finden. Der Eigentümer Vale vergab illegal die Schürfrechte. Diese wurden weiter verkauft, sodass ein Mittelalter-ähnliches Konstrukt entstand mit Knechten und Geknechteten.
Jens-Peter Mardersteig schreibt zu der Ausstellung : "Dreckiges Gold" ist ein fotografischer Report über Goldrausch und soziales Elend in der brasilianischen Serra Pelada.
Roland Willaerts Dokumentarismus gibt mit den Mitteln ästhetischer Lakonik den dargestellten Depravierten ihre humane Würde zurück. Inszenierungslos werden die Garimpeiros aus dem Chaos herausgehoben in die Schönheit des balancierten Bilds
Roland Willaert: 1950 geborener Belgier, geistiger Europäer, lebender Weltbürger. 
"Dirty Gold"
Photographs by Roland Willaert from the Serra Pelada / Brazil
Museum of the City of Bad Schwartau Schiller Street 8-10 23611 Bad Schwartau
Vernisage: 02.12.2016 ntroduction by Jens-Peter Mardersteig
Exhibition from 02.12.2016 to 13.01.2017
Opening hours Tue-Thu 10-13 o'clock and 14-17 o'clock Sunday 14-17 o'clock
With a Rolleiflex and 10 rolls of film I was in an illegal gold mine in 1986. Landless farmers, adventurers and criminals dug a huge hole to find gold. The owner, Vale, illegally granted the mining rights. These were resold, creating a medieval-like construct with masters and servants.
Jens-Peter Mardersteig writes about the exhibition: "Dirty Gold" is a photographic report about gold rush and social misery in the Brazilian Serra Pelada.
Roland Willaert's documentarism uses aesthetic laconics to restore the depicted depraved to their human dignity. Without staging, the garimpeiros are lifted out of chaos into the beauty of the balanced image.
EINE UNGERECHTE FALLHÖHE 
Oktober 2016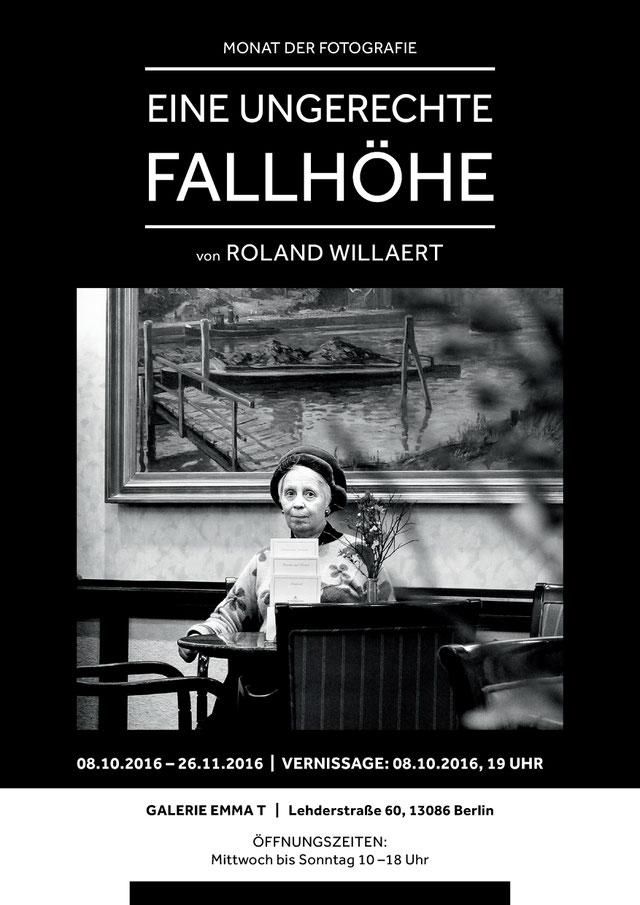 Monat der Fotografie-OFF
Fotoausstellung "Eine ungerechte Fallhöhe" von Roland Willaert
Galerie Emma-T
Lehderstrasse 60
13086 Berlin-Weißensee
Vernissage: 08.10.2016 19 Uhr
08.10.2016 - 26.11.2016
Öffnungszeiten Mittwoch bis Sonntag 10-18 Uhr
Angeblich leben wir in einer immer besser werdenden Welt, die Technisierung geht rasend schnell voran, Smartphones, Tablets , selbstfahrende Autos, Amazon-Päckchen mit einer Drohne, immer billiger werdende Lebensmittel , mit allen Mitteln älter werdende Menschen, überwiegend eine demokratisierte Welt . Aber ist das wirklich so ? Wer sind die wahren Gewinner , und wer sind die Verlierer ? Immer das gleiche Drehbuch , schon seit wir Geschichte schreiben. Die Verlierer sind Willaerts Thema. Eine ungerechte Fallhöhe. Roland Willaert ist ein Europäer und Reisender. Die Straßen und die Menschen seiner Aufenthaltsorte sind die Dekoration und Akteure seiner Fotos. Er ist der Stadtfotograf an dem Ort, wo er sich gerade aufhält.
Eine Vergangenheit in Film, Werbung und Fernsehen , seine Liebe für Kunst und Musik und vor allem seine soziale und politische Einstellung treiben ihn in eine eigenständige Sichtweise und Bildsprache. Seine Fotos sind oft surreal und befremdet. Roland Willaert : " Das energiegeladene Straßenleben zu reduzieren in einen kleinen fotografischen Ausschnitt ist eine konzentrierte Arbeit . Es kommt für mich darauf an, vorausschauend das mögliche einzigartige Bild zu sehen, um es, wenn es dann tatsächlich passiert, den richtigen Zeitpunkt zu erwischen. Aus einer Masse von vielen täglichen menschliche und visuellen Stimulationen suche ich das Einfache , die Abstraktion, die Befremdung , das Humane. Die menschliche Fallhöhe .
It's often claimed we live in a world in which everything is getting better. New technology, with Smartphones, Tablets, self driving cars and packages delivered by drones, is bringing progress everywhere. Better and cheaper nutrition is increasing life expectancy and overall the world's nations are becoming more democratic. But is that really how the world is? Are there not losers as well as winners? Isn't it really in the end the same old story as throughout human history? Roland Willaert, a European and a traveller, takes as his subject the losers of our contemporary world.
The streets and its people are the actors and the inspiration of his work. Wherever he finds himself he is a photographer of the city.
"To capture the life and energy of the streets in a small, inevitably partial, photographic extract is a work of great concentration. For me it is about being able to sense that the right moment may be about to happen when I can capture something special and, if it should then really happen, succeeding in capturing it. From the great mass of human and visual stimulation I try to find what can make us think again, perhaps in its simplicity, in its abstraction, in its humanity." 
HEROES Mai-September 2016 Zingst und Köln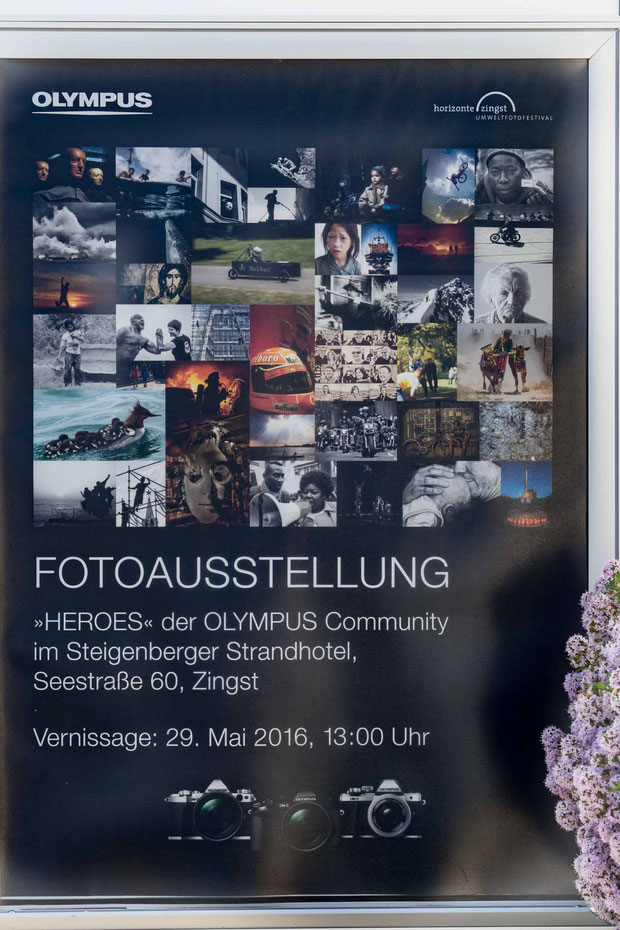 Photo exhibition in Zingst. Group exhibition in Zingst.
Photokina Köln 20.09.2016 to 25.09.2016 Olympus " Heroes" between hall 2 and 4. Photos thanks to Georgie Jerzyna Pauwels .
BEINE Januar - April 2016 
Two years ago my wife forced me to look at people from a terrace over coffee and cake, as she did many times before. To fight against boredom, I said: "Just look at the legs of the passers-by and turn off everything else. And look there: legs reveal a lot - age, social origin, way of life, political point of view and much more. I asked myself whether other viewers would come to similar analyses. Each viewer interprets legs differently depending on his or her background.
DRECKIGES GOLD  Januar-März 2016
Exhibition : Dirty Gold Photographs from the Serra Pelada from 2 January to 4 March 2016
Emma T Lehrerstraße 60 13086 Berlin Opening hours Tue-Sun 10:00 to 18:00
BLAU  August 2015 - Januar 2016
BLUE is the most popular color in the western world. Is it really the case that BLUE symbolizes many good qualities and has a pleasant effect? Does it stand for harmony, friendliness, tranquillity, peace, relaxation, balance, friendship, serenity, independence? Is it the colour of the spiritual?   
Six artists have dealt with BLUE in different disciplines. 
The exhibition will take place from 14 August 2015 to 15 January 2016 in the Town Hall, Markt 4-5, 23774 Heiligenhafen and can be visited during the usual opening hours.
FARB-KONTRAST  September 2014
FARB-KONTRAST / COLOR-CONTRAST : Collective  Exposition  with Painter Frauke Gehlen.
"Main-Museum of Bad Schwartau"  23 611 Bad Schwartau / Germany  3. September - 28 September  2014 
My Contribution: 15 Black and White Photographs out of my series: " My Photo of the Day"
RED HIGH HEELS  Juni - August 2014
Participation to Hip(4) : an Outdoor Installation  Parcours. 
My Contribution " RED-HIGH-HEELS" is a multimedial artprojects with Photographs, Videos, Drinks, Sculptures, Music, etc
Brückstraße  5  23775 Heiligenhafen / Germany   6. June -30 August 2014
DIE FEHMARN-SUNDBRÜCKE : DIE DRITTE DIMENSION
Mai - Juni 2014
Collective Result Exposition from my Workshop " The Fehmarn sund-Bridge ; "The third Dimension "  together with 6 workshop-participants :
"Haus des Gastes"  23775 Großenbrode/Germany   12. May - 22. May 2014
"Senator-Thomsen Haus " 23769 Fehmarn /Germany 29. May - 9. June 2014
"Aktiv-Hus" 23744 Heiligenhafen / Germany  12. June - 29. June 2014
My Contribution : 6 Photographs with the subtitle: "Flotsam"